Colyford Village | Goose Fayre 2019



There is an admission charge to access the main site of £4 and entry is free for children under 14 when accompanied by an adult.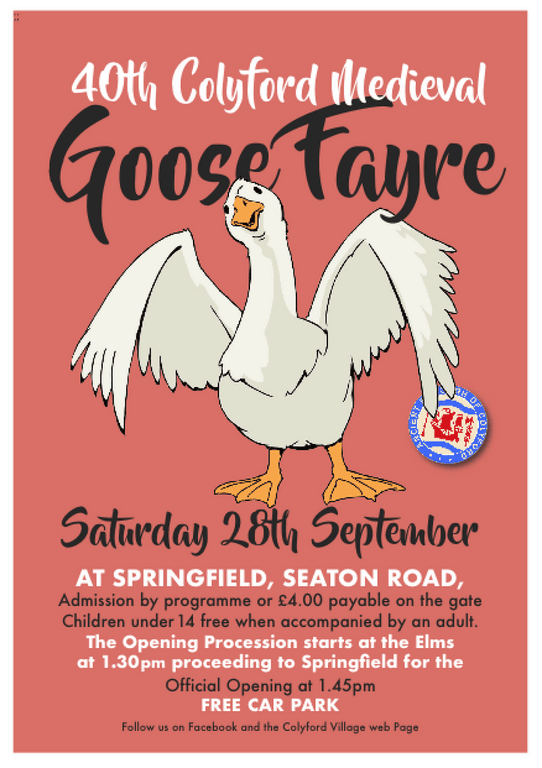 SATURDAY 28th September 2019
All the fun of a medieval fayre can be enjoyed.
During the afternoon there will be various demonstrations of traditional country crafts, falconry, fighting knights and cider-pressing.
Opportunities to engage in circus skills, Morris dancing, skittling, archery, riding the quintain or fighting it out on the greasy pole will be among the entertainment provided.
A huge variety of stalls and refreshment tents, including the traditional ram roast, contribute to a spectacular event with something for all of the family.
We look forward to seeing hundreds attend in medieval attire especially to mark the event's 40th anniversary.
The procession will move off from The Elms on the A3052 (By the Memorial Hall) at 1.30 pm. and make it's way to the main site.
Those not actually in it may watch the procession from the sides of the A3052 and then join it at the back and follow towards the main site.
The A3052 is usually closed for around 30/45 minutes for this event.
The Fayre will open officially at 1.45 p.m. at the site just down Seaton Road (turn off the A3052 by the Post Office).
There is a large car park which is accessed via Orchard Close. Car Parking is FREE.
---
More about the Goose Fayre
The Colyford Goose Fayre was revived in 1980 under the leadership of Colin Pady and has been held every year since then on the Saturday closest to Michaelmas.

In the early days the fayre was held in the grounds of the Old Manor Hotel but when that site was developed the fayre moved to the present site of Springfields, on the Seaton Road, thanks to the kindness of the Dupee and later the Pountney families.

A large number of villagers and friends dress in medieval costume and form a procession starting at the Elms. This colourful procession of many hundreds of people follow the Mayor of Colyford and his lady down to Springfield to the accompaniment of much music and jollity from the Mummers and the many providers of medieval music.

The fayre always tries to maintain it's medieval setting. Goods are sold under tents and various produce is available - honey, pancakes, ram-roast, pottery, leather - and of course beer, tea and cakes. Numerous medieval style skills are on show with metalwork, bodging, thatching and archery as well as childrens entertainment in the quintain and the greasy pole.

Among the entertainers there are mummers, strolling players, dancers and, the highlight of the afternoon, the mummers play. Local residents perform this play, written and produced by Jean Wakefield, in a light-hearted and humorous manner and it is always very well received by the locals. The afternoon always finishes with an auction of geese. Lately this has become a mock auction as over the years it was found that many people were not keen on obtaining a live goose, which obviously entailed killing, plucking and drawing before it could be enjoyed at the table.

The fayre has become a major feature in the local area and several thousand people attend every year. Any profits from the fayre are used for the village and some local organisations also benefit. From the outset it was decided that the aim of holding the fayre was not to make unwarranted profit but to hope to gain enough to stage another fayre in the following year, for the benefit of all the local people.

Geoff Marshall
---
Programme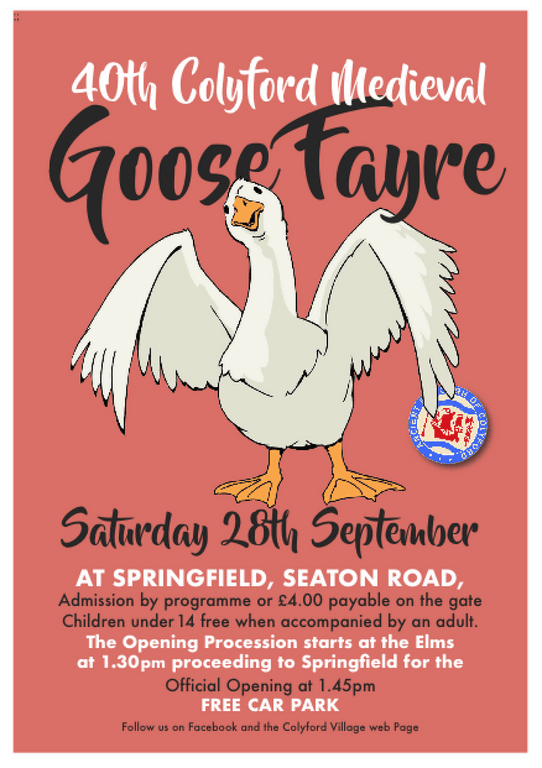 Programme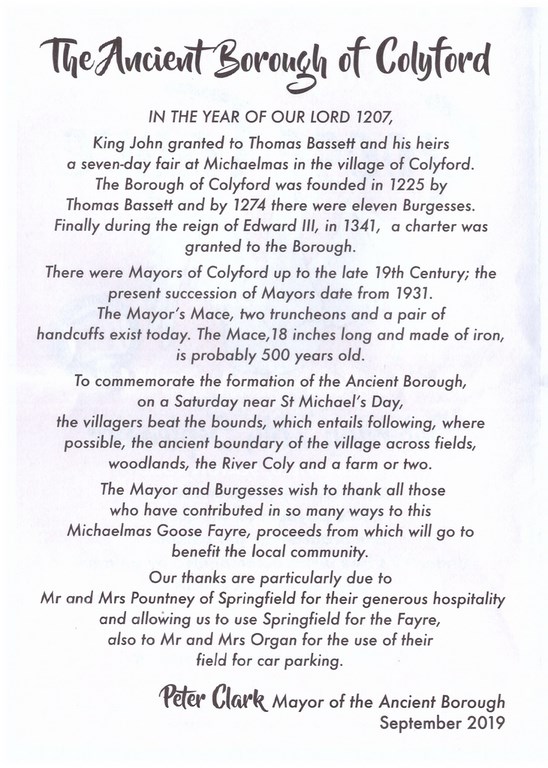 Programme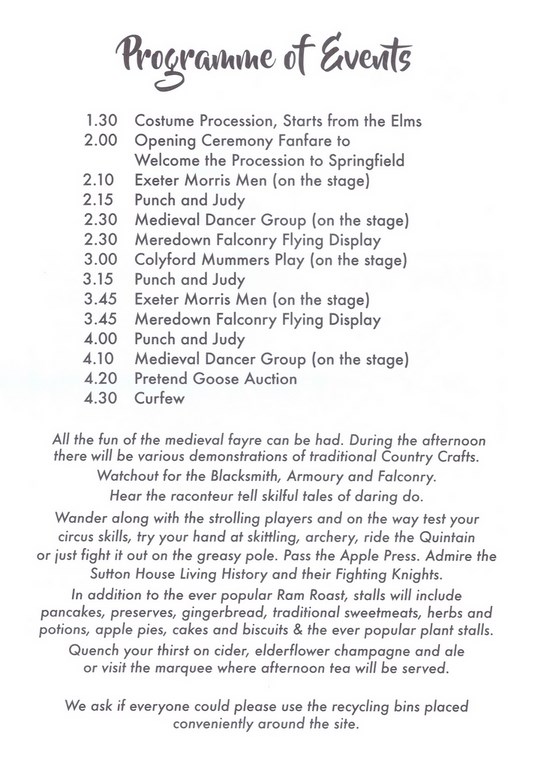 Programme