Colyford Village Memorial Hall
The Colyford Village Memorial Hall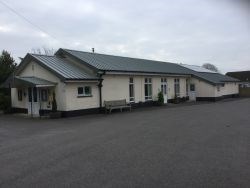 Welcome to the Colyford Memorial Village Hall Web Page. We are very proud of our excellent hall and hope that the information contained here will answer some of your questions.If you have any queries, our contact numbers appear below.

The Hall was opened by Mrs C. Northcott on 3rd November 1956 and was blessed by the Rev. W.G. Wilson MA.
Much improvement has taken place over the years. In the last 10 years a new roof, solar panels, kitchen, new boiler, new toilets (including disabled) and a tea bar have been installed. In 2020 a new floor was installed.

The Hall is situated on the main A3052 directly opposite the Church (St Michael's Chapel of Ease) and is easy to find in the centre of the village.

Contacts:
Andrew Stone (Booking Secretary) 01297 552938 or e-mail colyfordmemorialhall@gmail.com

Mrs Wendy Mills (Chairperson) 01297 553757 Email wendy.mills@live.com

and

Carol Rapley (Secretary) 01297 553808 Email carolrapley@hotmail.com

Our Village Hall is available for your event. Our hire rates are towards the foot of this page.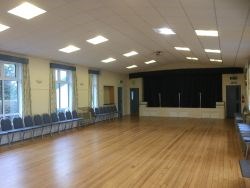 MAIN HALL

The hall measures 16.4m x 7.4m (54ft x 24ft) with a curtained stage of 5.4m x 3.5m. (17.7ft x 11ft) There is an electric screen and an overhead projector and WiFi broadband available. (Contact the Booking Secretary) The hall has a small Bar and there is seating for 155 if the hall is required for talks. There 18 tables (6ft x 2ft 6in) and 20 tables (3ft x 2ft 3in) for functions. There is a tea bar with a hatch, which enables you to serve refreshments straight into the hall.
---
IRIS PARSONS COMMITTEE/MEETING ROOM

This room is 5.8m x 3.9m (19ft x 12ft 6in) with chairs, tables and access to kitchen, main hall and stage. This room is available for a small seated meeting (around 35 people), and also committee meetings.

This also includes the use of the kitchen.
---
REFURBISHED KITCHEN

There is a roomy 6.7m x 2.6m (22ft x 8ft 6in) working area, well fitted kitchen, with preparation area, modern gas cooker, dishwasher, hot cupboard, water heater, fridge and serving access to both main hall and committee/meeting room.

The kitchen has also been designed for use by the disabled with a low preparation counter.
---
CAR PARK

There is direct access from the A3052 to the large hardstanding car park.

Toilets: Male, Female and Disabled and there is an entrance for wheelchair users.
---
Hire the hall for your club or organisation!


COLYFORD MEMORIAL HALL HIRE CHARGES (Correct 2019)

Commercial Societies Local User Groups and Societies etc. Occasional Societies etc.
3 Hours(minimum) £45.00 £28.00 £32.00
4 Hours £55.00 £33.00 £38.00
6 Hours £75.00 £45.00 £50.00
8 Hours £90.00 £60.00* £65.00*
Note:

1. The above commercial rates are inclusive of PRS fees.
2. * denotes additional hours will be charged at £8.00 per hour.
3. A commercial user is defined as an organisation whose sole purpose is to trade in goods, services or provide entertainment for the public, for profit.
---

Iris Parsons Room/Committee Room

Private/Local Societies: £10.00 for a minimum period of 3 hours.

Commercial: £14.00 for minimum period of 3 hours, plus £5.00 per hour for any extra hours.
---