Colyford Village and Seaton Wetlands
Seaton Wetlands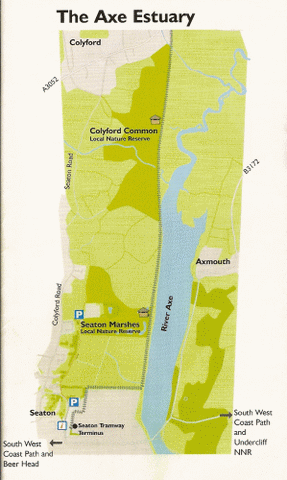 The Axe Estuary Wetlands is the coordination of EDDC, the Environment Agency and Natural England to create a large scale nature reserve with great opportunities for wildlife and people.

Covering most of the western side of the Axe Estuary, it has created a nature reserve stretching from Seaton to Colyford.

This links and extends Seaton Marshes and Colyford Common local nature reserves which were isolated from each other.

A wealth of new wildlife habitats has been created, making the area one of the best sites for wildlife watching in Devon, boosting the area's reputation for eco-tourism.

New ponds and meres, seasonally flooded fields, a large brackish water lagoon, reed beds and tidal salt marshes are set against the beautiful backdrop of the Lower Axe Valley.

Key areas have been left completely undisturbed and in addition there are new bird hides and viewpoints around the edges.

A large block of new land has been acquired and a saline lagoon has been created.
To get to the Wetlands from Colyford turn down Seaton Road by the Post Office in the centre of the village and the entance to the wetlands may be found on your left after around 300 yards.